KAYA CLUB CARD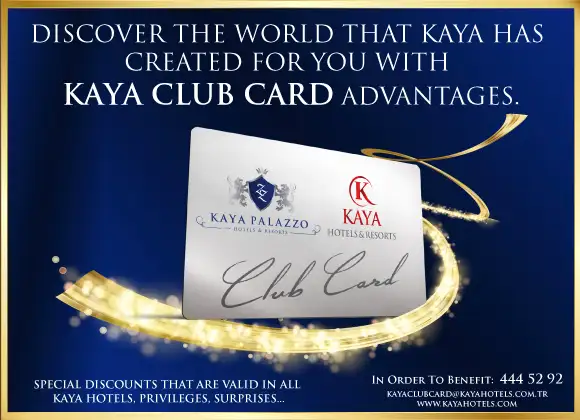 Our guests who are Kaya Club Card members;
Our member guests are firstly informed about all events, campaigns and opportunities about our hotels within Kaya Hotels & Resorts and Kaya Palazzo Hotels & Resorts.
Our guests who become members earn Welcome points worth TRY250.
Our member guests are offered a 10% discount advantage for their Spa and A La Carte expenses during their stays.
Kaya Club Cart members earn 3% Money points from the total accommodation amount and extras when they make reservations through Kaya Call Center at 444 52 92 or individually at the hotel or through online reservation by visiting www.kayahotels.com. They can spend their accumulated reward points for their next stays.
The equivalent for the earned Parapuan (Money points) (in TRY) is added on behalf of our member guest once the stay is over and checkout is done from the hotel.
Member guests can spend the accumulated Parapuan (in TRY) in their accounts when they pay for the accommodation amount during reservation or for the hotel extras.
In addition, we offer occasional discounts or the opportunity to use the earned Parapuan by fold.
Example: Our member who has a stay of a total of TRY50,000 will earn 1,500 Parapuan (Money Points) (TRY) equivalent for 3% - our member whose next stay costs TRY60,000 can spend the 1,500 Parapuan (Money Points) in their accounts as they wish, and pay TRY58,500 for that stay at our hotel.