Kaya Palazzo Ski & Mountain Resort
Concept: Full Board Plus / Bed & Breakfast
Inclusive open buffet meals in the morning, midday and evening, local alcoholic and non-alcoholic drinks to be taken with meals at the restaurant, taken at the lobby from 10:00 – 24:00, and cake and pastry at 5 p.m. . All food and beverage taken out of concept shall be paid.
Room & open buffet breakfast includes in the morning
Skipass : Unlimited and free of charge for the use of the 9 lifts und 15 ski runs of our hotel.
There is much more in Kartalkaya then what you are expecting from the most famous ski resorts in the world.

Kaya Palazzo Ski & Mountain Resort, which started to operate in December 2011 invites you to live a new experience with the idea of completely changing your winter vacation concept.

Located in Kartalkaya, Turkey's most popular ski resort, Kaya Palazzo Ski & Mountain Resort offers a winter holiday dream for the skiing and snowboarding enthusiasts with its outstanding architecture and superb service quality.
"Palazzo Luxury Chalets" invites you to a whole new experience which will completely change your understanding of winter vacation. "Palazzo Luxury Chalets", which offers the most luxurious service in the world that will make you feel privileged at any moment, is waiting for you. You will enjoy the winter vacation with your family and friends in a total area of ​​350 square meters accompanied by mountain and forest scenery. Offering direct access to the ski slopes, "Palazzo Luxury Chalets" has been designed to make it easier and more enjoyable not only for you, but also for your children.
GENERAL INFORMATION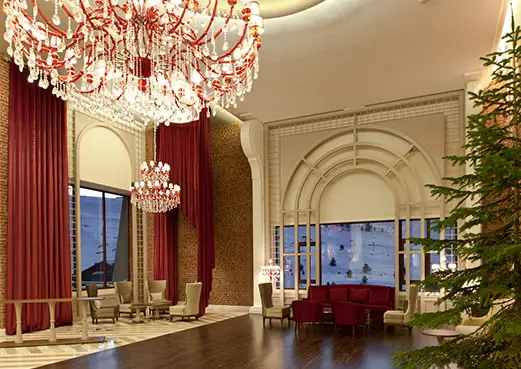 10

9,8

4,5
RESERVATION